It's no secret that YouTube is growing rapidly. Over 500 hours are uploaded to the platform every single minute.
This can be overwhelming for new YouTube creators or even established YouTube channels. What thumbnail works best? How do you analyze video analytics from YouTube Studio? What video editor to use?
In any case, creating high-quality videos for your YouTube audience is already tricky enough. So, over the last few years – I've tested several YouTube tools to help me create videos, generate video ideas, produce video thumbnails, and more.
These YouTube tools are not just something I've pulled out of thin air (like many other blog posts on this topic!), but tools I use every day.
No – seriously. These tools helped me grow my YouTube channel from 0 to 100,000 subscribers in just one year. I'm now also able to generate around $20,000 every single month from my video content.
Best YouTube Tools
TubeBuddy
Notion
DaVinci Resolve
Epidemic Sound
MotionVFX
ThumbsUp.tv
Geniuslink
TubeBuddy
TubeBuddy is one of the best YouTube tools in my arsenal. It's a free browser extension and automatically integrates with your YouTube channel.
TubeBuddy allows you to optimize and analyze almost anything. From channel and video performance to YouTube thumbnails, YouTube SEO, or even keyword research.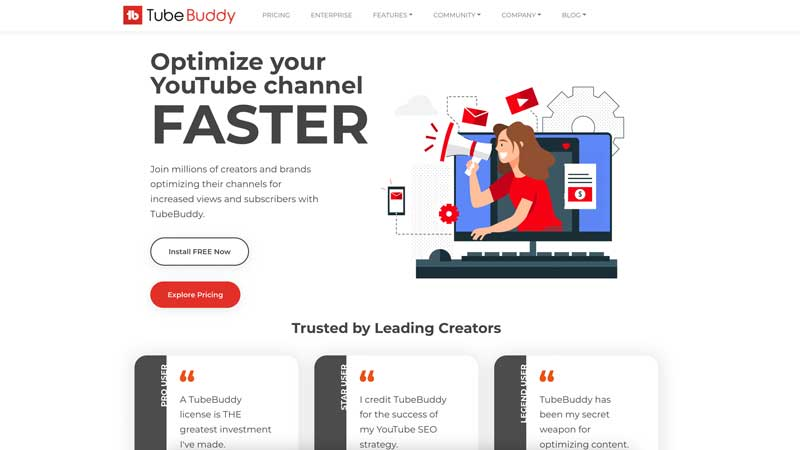 So why is TubeBuddy so good? Why can't you use YouTube Studio? Unfortunately, YouTube studio is limited in functionality.
Let me give you an example. I have many affiliate links in the descriptions of my videos. If a specific link changes or I need to update it, I'd have to go through every individual video and edit them manually.
TubeBuddy has a bulk updater tool – allowing me to update all my YouTube videos with a few clicks of a button.
I can also generate a health report to see how my channel performs or optimize existing videos by updating tags and SEO.
One of my favorite features, however, is the thumbnail AB test. During the video creation process, I try to come up with a few different thumbnail images – but how to tell which one will perform best?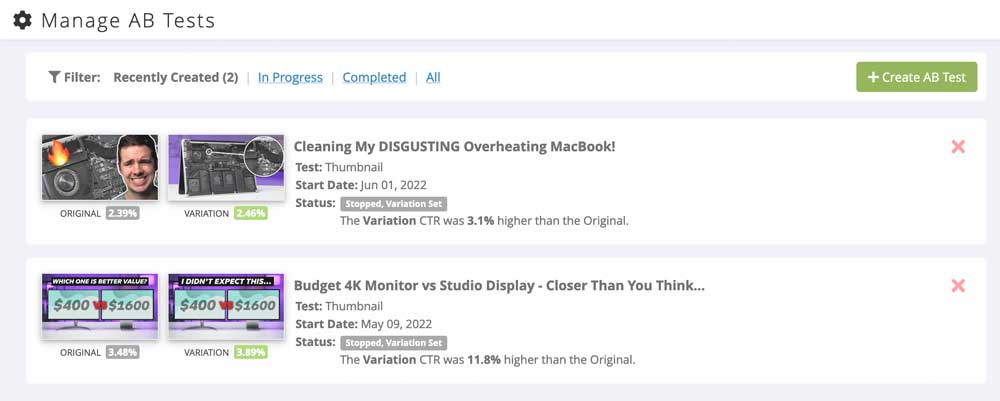 TubeBuddy makes this simple. I upload two thumbnails that I think will perform best. TubeBuddy cycles these thumbnails and statistically determines which one has the highest CTR (click-through rate). It will then automatically update the video details with the highest-performing thumbnail.
TubeBuddy has a free version. However, I recommend the Star plan if you're serious about your YouTube channel. For the cost of a few cups of coffee a month – it's well worth it.
Notion
My YouTube workflow used to be a mess. I'd schedule videos on random dates, write video ideas in random places that would get accidentally deleted, or forget to edit videos with updated sponsor content, for example.
So just like TubeBuddy, Notion was a game-changer for me and is now an essential YouTube tool of mine.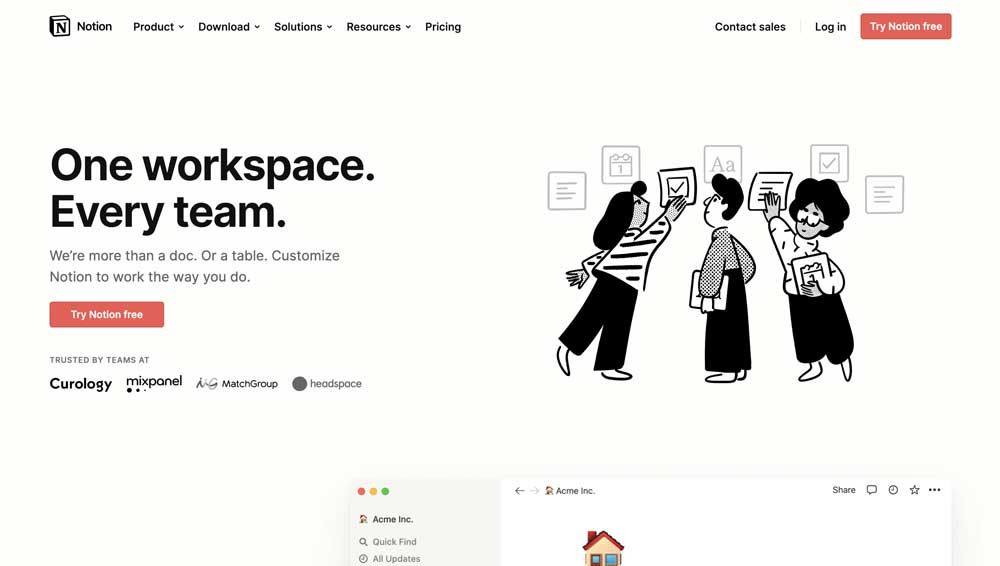 Don't take my word for it. It's no secret that Notion is one of the most popular YouTube tools for almost all YouTube content creators. Think of it as Excel + Evernote + Google Docs + Trello.
I use Notion to plan almost every aspect of my YouTube channel – from planning videos or social media posts, brainstorming video SEO ideas, or even keeping video templates that can be copied to video descriptions.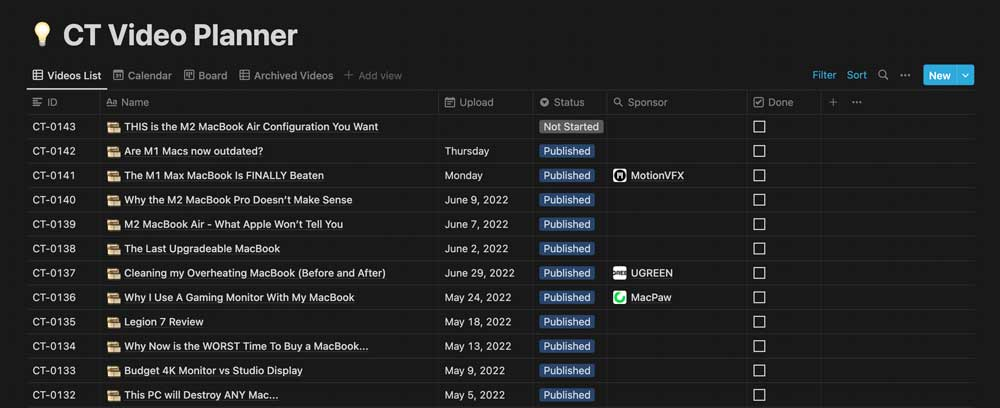 Take a look at this screenshot. I have a list of every video I've ever uploaded. Each video has a unique code that I can use to keep track of it. I can also add sponsors to a video and keep all of my scripts, keyword research, and links to relevant videos all in one place.
All of this information stays here forever, and I can bring it up with just a click.
Additionally, I keep lots of detailed notes in Notion. Some of my videos require a ton of research, and being able to neatly organize everything with drop-down lists, embedded images, and tables is incredibly useful.
The best part about Notion? The free version has everything you need. There's no reason to upgrade – making it one of the best tools for YouTube.
DaVinci Resolve
If you search for "best video editing software," you'll find a number of articles with questionable authenticity. Seriously. I doubt most people writing those articles have ever edited anything in their entire life.
This topic can be confusing for aspiring YouTubers looking to create professional-looking videos. Which video editing software is best? What will give my video content the best chance of succeeding?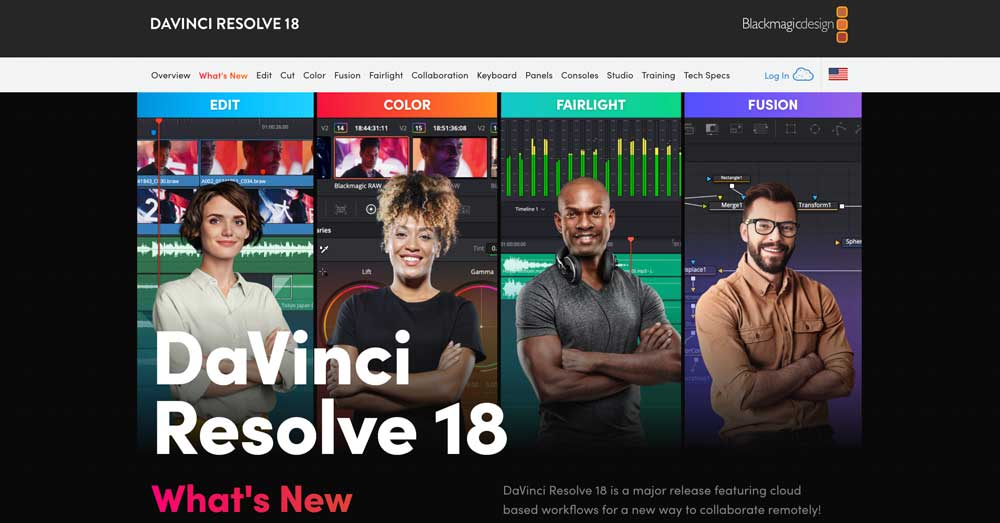 That's where DaVinci Resolve comes in. It's hands-down one of the best video editing tools. It combines editing, color correction, visual effects, motion graphics, and audio post-production.
Hollywood movies such as Black Widow, Dune, Nobody, and Godzilla vs. Kong were color graded using Resolve.
In my opinion, Resolve is also one of the easiest video editor programs to learn. With a few hours of YouTube video tutorials, you'll be able to publish videos much quicker.
Resolve is compatible with both Windows computers and Macs. It's also 100% free. It won't cost you anything unless you upgrade to the Studio version – which isn't necessary for most YouTube videos.
Epidemic Sound
Another essential YouTube tool is Epidemic Sound. Using copyright-free music ensures your YouTube video does not receive a copyright claim.
This is where I get all the music tracks and sound effects for my own YouTube channel. Or, if you own and create content for multiple YouTube channels – your Epidemic Sound license can be moved between them.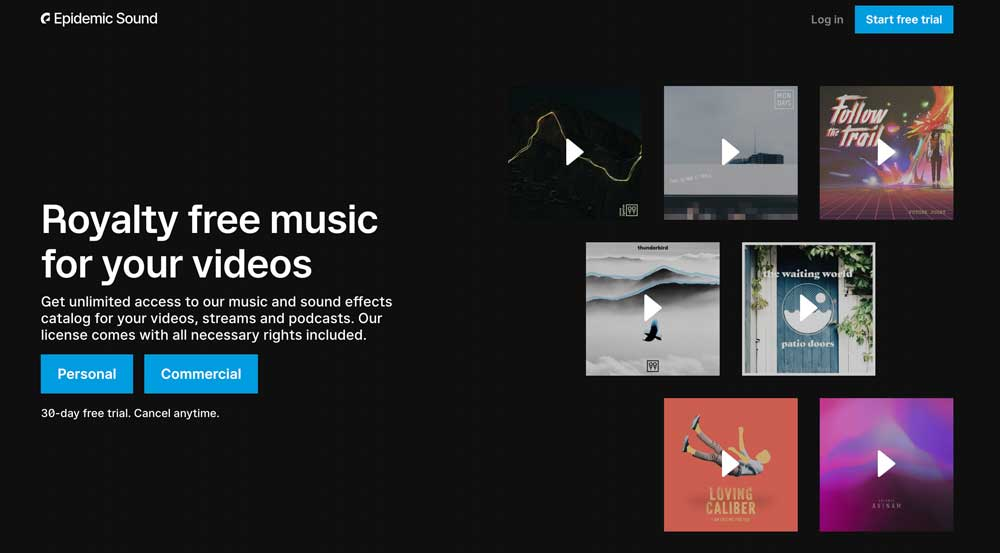 Everything on Epidemic Sound is copyright and royalty-free. This is extremely important when monetizing your YouTube videos as a part of the YouTube partner program.
If a song contains copyright – you won't make any money from that video if the artist or record label makes a copyright claim.
I've seen this happen many times. YouTube creators publish videos on their YouTube channel or even on a different social media network like Facebook. A few months later, the background music in the video is claimed. Sometimes their YouTube channel even receives a copyright strike.
Alternatively, live streaming on platforms like Twitch can be prone to the same copyright issues.
This is why paying a small monthly amount for something like Epidemic Sound is a wise investment. It could save you potentially thousands of dollars in the long run.
However – if you're a YouTube creator and your video strategy does not require music, I wouldn't bother with something like Epidemic Sound. There are also sources of copyright-free music that don't cost anything, but they typically have a poor selection of songs. One example is YouTube's audio library.
MotionVFX
MotionVFX is another YouTube tool I use daily to speed up video editing and visually improve video content.
On the MotionVFX website, there are several plugins, transitions, and templates you can purchase that are compatible with Final Cut Pro, DaVinci Resolve, and Adobe Premiere Pro.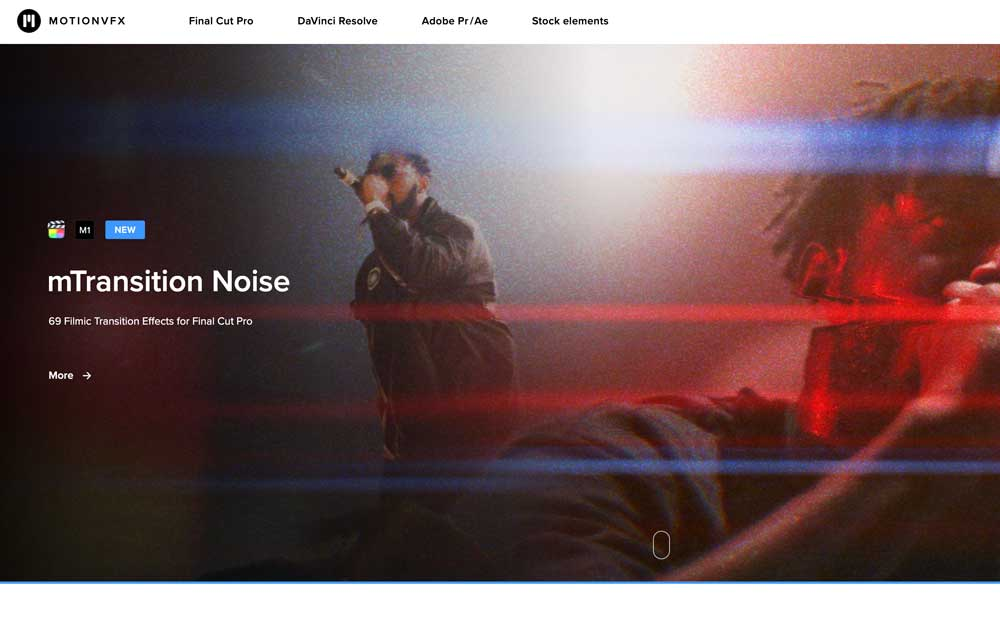 Often it's as simple as dragging and dropping to create stunning visual animations or transitions on your video timeline. This is especially helpful if you make time-consuming explainer videos.
I started using MotionVFX plugins on my YouTube channel a few months ago. Reducing time on the editing process allowed me to focus on other areas like video duration, analyzing YouTube analytics, or even creating social media graphics to post the video on other networks.
Some MotionVFX plugins and transitions are a bit pricey, but the alternative is spending hundreds of hours painstakingly creating transitions or effects from scratch.
Time is money, which is especially important when growing your YouTube channel.
ThumbsUp.tv
This is a really helpful (and free) tool to help you write effective YouTube video titles.
When people search for videos, the YouTube search autosuggest or featured video section will often cut off titles if they're too long. This is known as truncating.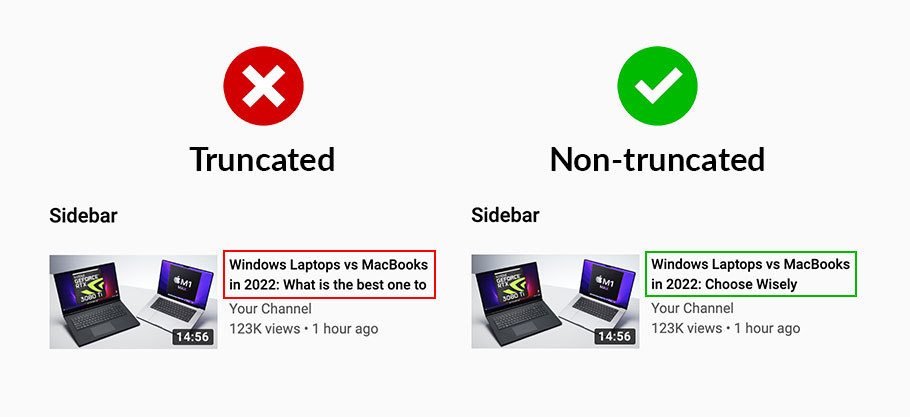 You can see an example of a truncated title in the image above. When appearing in the sidebar, the end of the title is cut off. This may hurt CTR (click-through rate).
By editing this title to contain fewer characters (I aim for around 50), truncation is no longer an issue.
Geniuslink
Geniuslink will completely transform your YouTube affiliate channel management strategy.
I use them in the description of every YouTube video on my channel to boost revenue and simplify affiliate links.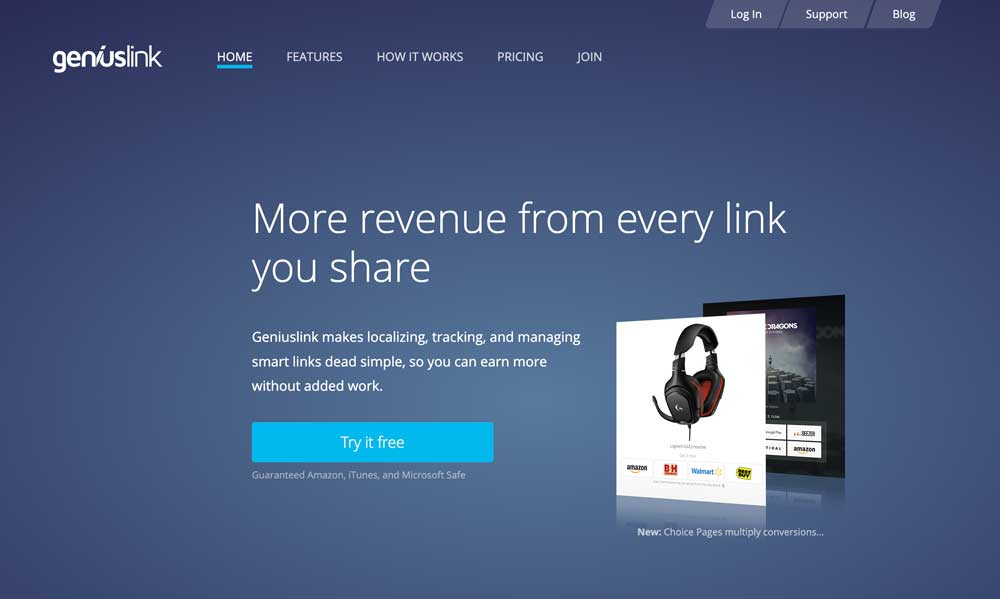 It works so well that I doubled my Amazon Affiliate revenue in 3 days by implementing Geniuslink.
When someone clicks an affiliate link on your video, it sends them to their localized store. For example, if I want to direct people to a computer accessory on Amazon.com, if their IP address is from Canada – they will be sent to the amazon.ca store. Or, if they're from France, they will be sent to amazon.fr
I can also specify different click routes. I can direct people from the United States toward a site with a higher affiliate percentage.
I can also edit the links themselves without going into the description of YouTube videos and doing it manually. It also allows me to manage the affiliate links across multiple youtube accounts.
Don't think Geniuslink is limited to just YouTube – you can also use it on most other social media platforms.
Frequently Asked Questions
What is the best free YouTube tool?
DaVinci Resolve. It's such a powerful piece of editing software that I still can't believe it's free. You can make YouTube videos without everything else I've mentioned here, but you still need to actually edit your videos.
Do I need YouTube tools to grow?
No, you don't. They are optional, and you can still create great content without them. However, they will speed up your ability to grow your YouTube channel. If you're on a budget, I recommend starting with Notion and Epidemic Sound.
Can YouTube tools be used for live streaming?
Yes! Regardless of the live streaming platform you're using, the right YouTube tools can help you. Especially MotionVFX if you want to create visual effects and Epidemic Sound for background music.
Is TubeBuddy the best way to find YouTube keywords and SEO insights?
It's not 100% necessary. YouTube Studio has this feature (although not as good). Also, you can probably figure out what keywords to target in your particular niche. The TubeBuddy keyword tool is simply more intuitive and might give you more accurate results.