YouTube is one of the most popular video streaming platforms on the internet right now. The problem is, not everyone is constantly online, and sometimes it's more convenient to download YouTube videos and watch them later.
Or, maybe you want to download playlists or save entire YouTube channels.
For that, you want to have the best YouTube to MP4 converter.
A YouTube to MP4 converter will download YouTube videos in a format that pretty much any device supports, so you can watch videos whenever you want, wherever you are. If this sounds like something you could use, read on.
What Is a YouTube to MP4 Converter?
A YouTube to MP4 converter is a website or app that allows you to convert any YouTube video to the MP4 file format. Some of the tools available are pieces of software that require you to download the video in advance, while others will only ask for a YouTube video link and then download it automatically.
Even though there are plenty of video file formats, MP4 is great because it allows for plenty of both video and audio information to be stored in a rather small file size. This makes it especially handy for users that want to download YouTube videos and watch them on their mobile devices which, often, have limited storage.
With that in mind, there are far too many websites that let you convert YouTube videos to MP4 and download them, but here are the ones I've found work best and download high quality video.
What Are The Best YouTube to MP4 Converters?
We're kicking things off with desktop software, and VideoProc Converter is the best YouTube to MP4 converter you can download. The free version gives you get a great way to convert YouTube videos to MP4. However, the paid plan goes a lot further than that, with hardware acceleration and significantly improved video quality.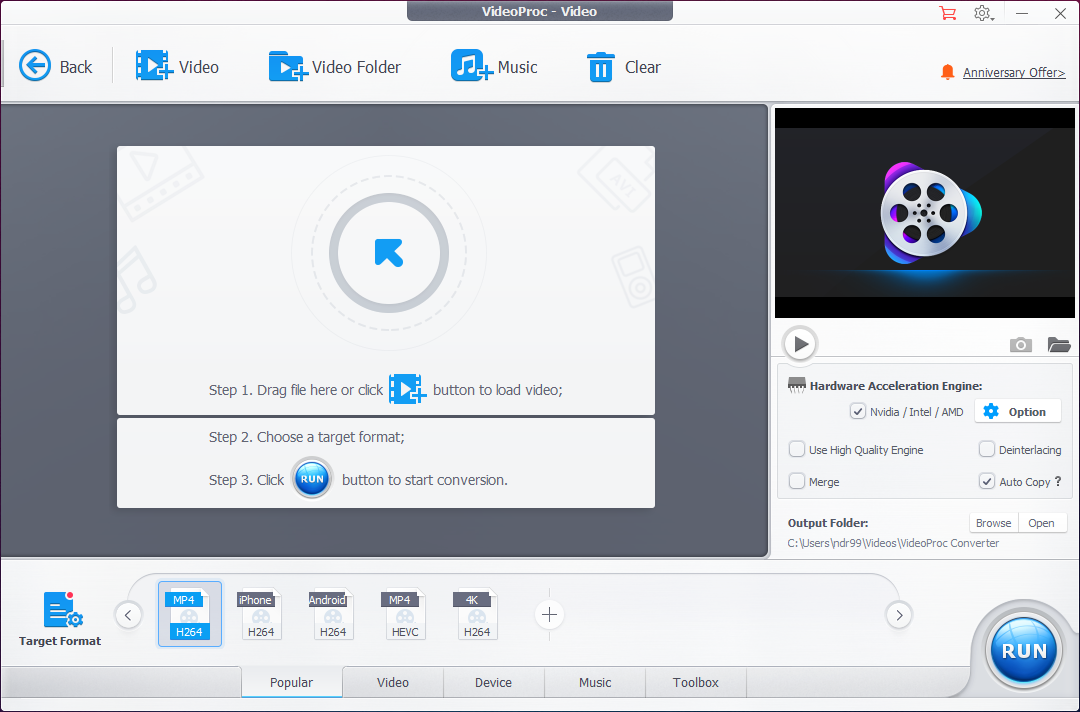 VideoProc lets you download YouTube videos in bulk, and it even has a built-in quick video editor that will let you cut, merge and crop any YouTube video you've downloaded. While the premium license isn't affordable, if you convert videos often and want to quickly manage multiple videos, this is the software you need.
Unlike VideoProc, for Any Video Converter I'd actually suggest you stick to the free version. It gives you everything you need, and there's a truly massive list of supported file formats, which makes this a great choice. Any Video Converter supports HEVC as a high quality compression standard, which results in high quality video downloads and small file sizes.
If you opt for the premium plan, you can also enjoy hardware acceleration, which takes advantage of your CPU and GPU to significantly improve processing speeds and make converting YouTube videos even faster.
Even though I found UniConverter more advanced than either of the other two options that precede it, you'll need a paid plan in order to take advantage of any of the nice features. However, with said paid plan, not only can you download and convert any YouTube video to MP4, but you can also download subtitles as well, and there's the option to download an entire YouTube playlist in multiple videos with a couple of clicks.
The great thing about UniConverter is that with the paid plan, there is no quality loss when you're downloading YouTube videos, and I'm talking about both audio and video quality. If you're looking for a powerful YouTube video converter that lets you save multiple YouTube videos at once, and don't mind paying, UniConverter is one to certainly consider.
iTubeGo is primarily a video downloader rather than a YouTube video converter, but it plays both roles rather well. It's a neat piece of software with a clean, well organized UI that gives you an overview of which videos are done, which are downloading at the moment, and which are converting, allowing you to stay on top of your YouTube video collection.
Compared to the other options I mentioned earlier, iTubeGo lacks features. It doesn't have any of the advanced things competitors offer, but for people that just want a way to convert videos to MP4 and not much else, it's still going to be perfect.
I recommend iTubeGo for people simply looking to save videos to their desktop.
If you want to do more than just downloading YouTube videos, you might want to consider VideoHunter. It's an app that can download videos from over a thousand streaming sites, and convert and export them in resolutions as high as 8K. Of course, you won't get this in the free plan, but if you want high resolution YouTube downloads, the Pro plan is a small price to pay.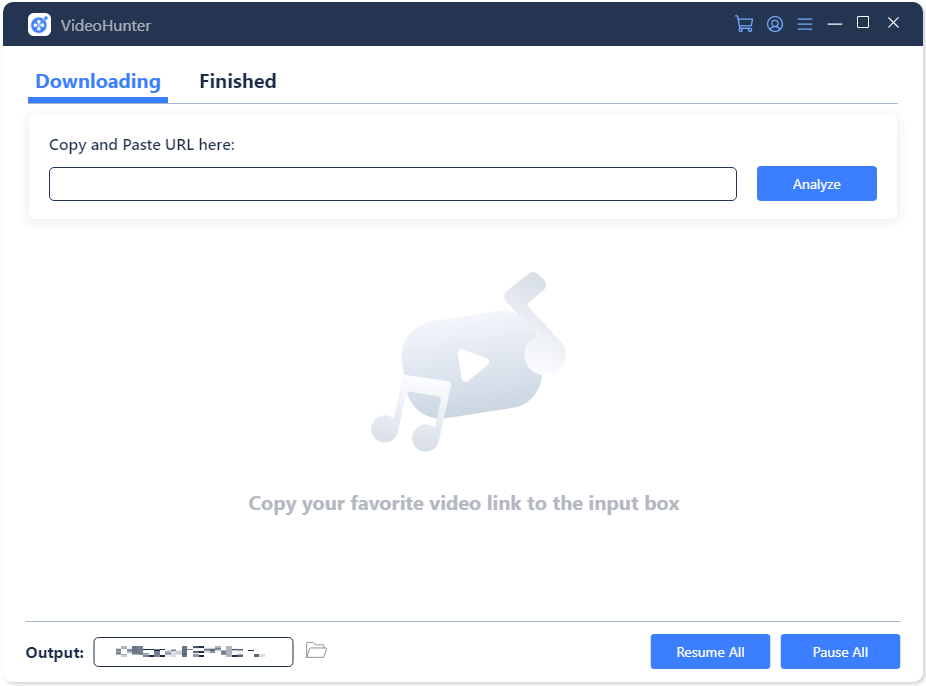 Where VideoHunter falls short is in the quality department — even though it boasts high resolution downloads, the quality sometimes suffers. Of course, this may or may not matter to you when you're choosing a YouTube to MP4 converter and video downloader, but I cared about quality, which is why it's not that high on the list.
If you visit aTube Catcher's website and get the impression that it's a sketchy piece of software that you should avoid, I get it. I had the same impression when I first came across it, but it's a neat little tool that can help download videos from YouTube and convert them to MP4 (or a selection of other formats).
What's great about aTube Catcher is that it has very low system requirements, and can run on almost any hardware, even on a PC that's running Windows XP, which is over 20 years old. The downside is that the software is a bit dated looking in terms of UI, and offers very little extra features. If you only need a way to download videos from YouTube, though, it's a great choice.
YTD has a neat counter on its website that shows how many YouTube videos have been downloaded with it since its release in 2007. At the time of writing, that number sits at a touch over 1.1 billion (with a B, not a typo) videos, which is impressive. The app itself is available on Windows and macOS, but it does look a bit dated.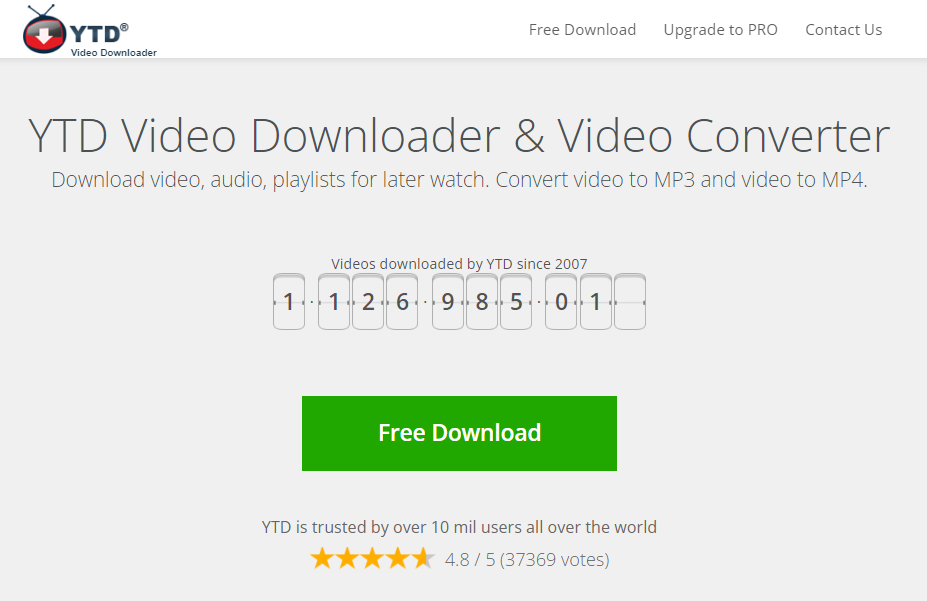 I'll be honest — YTD won't win any design awards, nor is it the best YouTube to MP4 converter and way to download videos from YouTube. However, it's simple, it works well, and it's completely free if you don't need automatic conversion to a different format, which is more than enough for many users.
For anyone that prioritizes speed when they're trying to download a YouTube video (or multiple), Airy YouTube Downloader is probably the best way to download videos from YouTube and convert them to MP4. It's arguably the fastest downloader out there, which comes in clutch if you're downloading a high number of videos at once.
A thing to note about Airy is that while it has a macOS and a Windows version, the Windows version lacks two main features: you can't bulk download an entire channel, and you can't download private videos. I'm not sure why this is the case, but I would've preferred the two apps to be identical in functionality.
Moving on from downloadable software to an online solution, Offeo is the first one on the list. The tool is completely free, it takes the URL of the video you want to download, and it gives you a few options in terms of format — MP4 included. It's not the fastest way to download videos from YouTube, but it's one of, if not the easiest.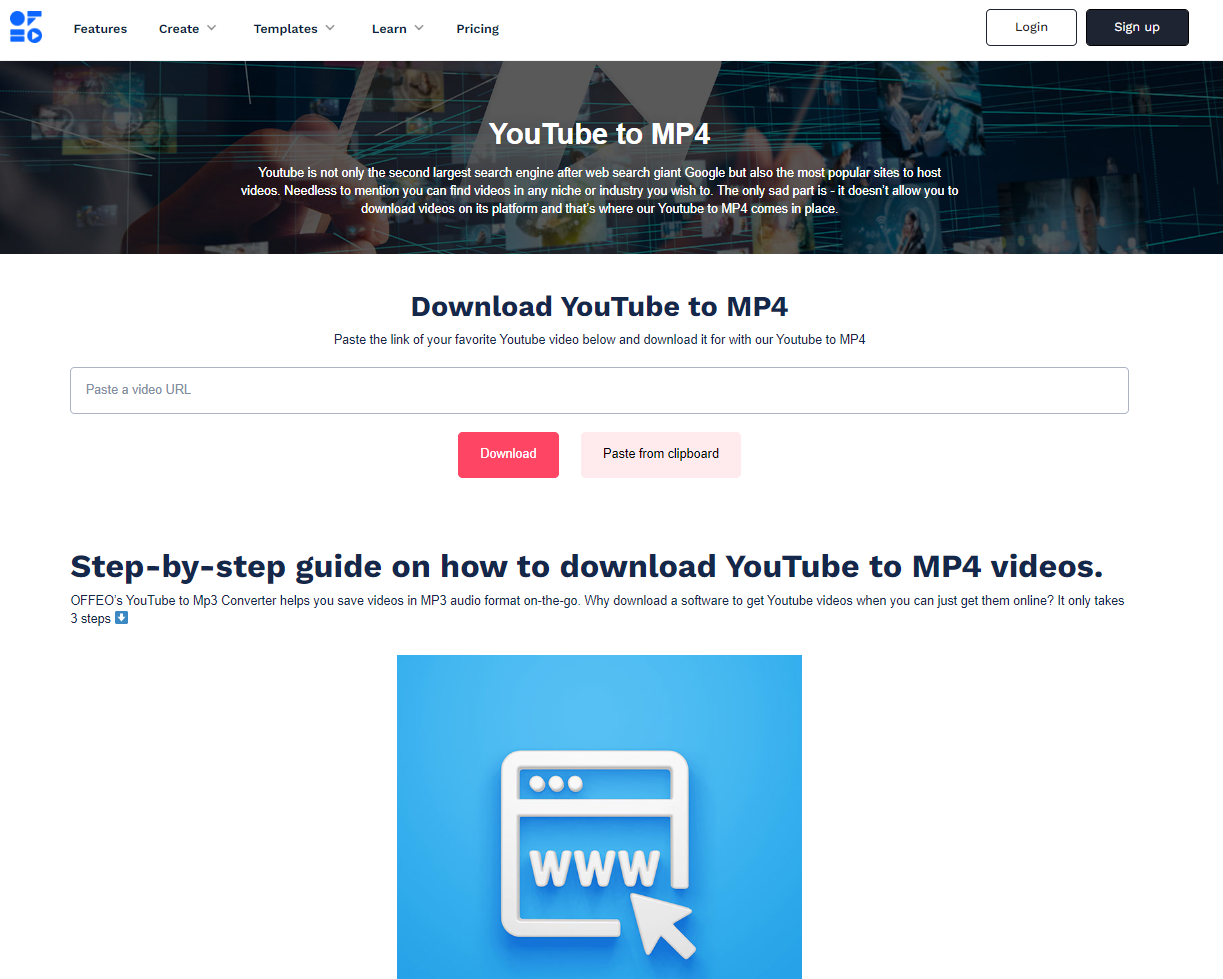 What's interesting about Offeo is that only the top 10% of the website is the tool — the other 90% is a step-by-step explanation on how to use the tool, as well as a detailed FAQ section that explains anything you might need to know about converting YouTube videos to MP4. I also liked the download quality, since this type of video converter can sometimes have issues with quality, but that's not the case with Offeo.
A dead simple YouTube to MP4 converter, Y2Mate lets you download YouTube videos in multiple resolutions rather quickly, and with no fuss. Like Offeo, just paste the URL of the YouTube video you're trying to download, click Start, and let the tool do its job. It will then give you a few resolution choices, you click Convert, and you're done.
Y2Mate can download up to a 1080p resolution, which should be enough for most users. The one thing I wasn't a fan of was the speed — Y2Mate is far from blazing fast, and it might take a while to convert videos and download them, especially if they're longer and in a higher resolution.
This is probably the sketchiest YouTube video converter name you've heard, but I can assure you the tool is completely legitimate and an excellent YouTube to MP4 converter. On first glance, the website seems empty — there's not much more than an input field that asks for the YouTube video URL. The only other thing is a chevron that opens up instructions almost as detailed as Offeo's.
YTMP4 Converter has one glaring downside — it can't download videos in a resolution higher than 720p. In 2022, this is far from impressive, with most new videos on YouTube being at least 1080p, if not a higher resolution. If you want to download YouTube videos in high resolution, this isn't the solution for you. But otherwise, it's a solid video converter.
Keepvid has been around for quite some time, and it used to be the best way for converting videos from YouTube to MP4 and other video formats. Unfortunately, it hasn't evolved too much — the website is a minor redesign from how I remember it from years ago. That might not be a bad thing though, it's simple so anyone can use it to download YouTube clips.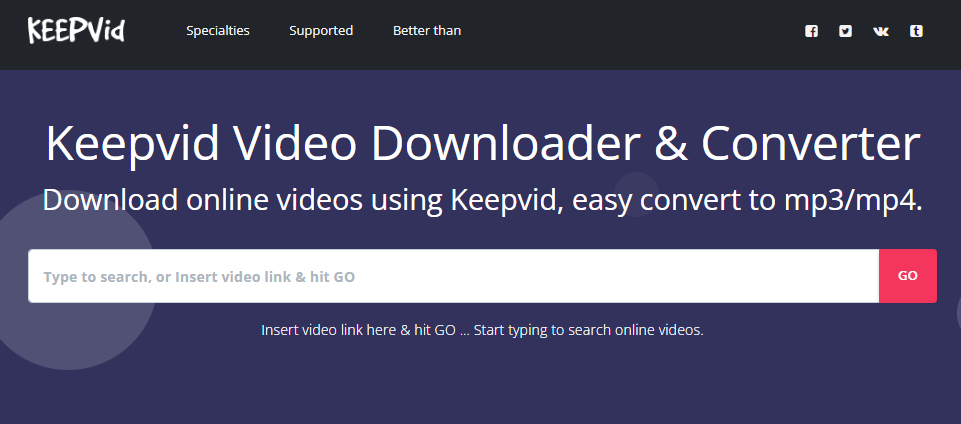 The one issue I had with Keepvid is that sometimes it just refused to work. It happened two or three times with random videos, I would input the link, click Go, and nothing would happen. I'm not sure if it was an issue with the website or not, but I did feel it should be brought up.
Gabed iLoader is another simple YouTube to MP4 converter, allowing you to paste a YouTube URL and download the video after a short processing period. There's a clipboard icon too, which will automatically paste the URL, provided you give the website access to your clipboard. I like the fact that it can download up to 4K video from YouTube, but also that it can download from Vimeo and Facebook Video, too.
What I'm not a fan of is the rest of the website. What's supposed to be a guide on how to use the tool and why you should use it at all, is just a block of text stuffed with keywords aiming to get better rankings in Google's search engine result pages.
2Conv is both a desktop app and an online converter. However, I tried the desktop app and wasn't impressed, so I'd suggest you stick to the online converter. The website is very simple, you input the URL, choose whether you want the converted video to be an MP3 or an MP4, and wait for it to process.
In addition to the desktop app not working properly, I also noticed that you sometimes can't change the resulting format to MP3. If you only want to extract the audio from your desired video URL link, it might not work. I did like the button that opens another instance of the website in another tab, while the current video is processing, so you can download another one quickly.
Downie 4 is a YouTube video downloader and converter for macOS. It's a desktop app that lets you download videos directly from YouTube by copying and pasting the video URL into the app.
Downie 4 allows for batch download so you can download multiple videos simultaneously, built-in video conversion to multiple video formats, and has a very intuitive interface.
There's a catch however – after the free trial expires, you have to buy it.
I personally purchased and use Downie 4 to download clips for use in my own videos, allowing me to make money on YouTube.
It's incredibly easy to have the app running in the background and simply download videos with the click of a button – speeding up my entire editing process.
Wrapping Things Up
Whether you have a sketchy internet connection and would rather convert YouTube videos to MP4 and download them, or you just want to be able to access a couple of videos offline, you need the best YouTube to MP4 converter to get it done.
I hope I've given you enough options to choose from – most of the tools are free and work rather quickly, so you'll be able to enjoy your videos in no time.
YouTube to MP4 Converters Frequently Asked Questions
Can You Download YouTube Videos Without YouTube Premium? 
Yes – the YouTube to MP4 converters I mention don't require you to have a YouTube Premium account in order to be able to download videos from YouTube. 
Can You Download Videos from YouTube in High Resolutions? 
While YouTube video converters that have been around for a while will limit you to something like 720p or 1080p in terms of resolution, there are others that will let you convert videos from YouTube to MP4 and download them in even 4K resolution. 
Is MP4 The Best Video File Format? 
While technically speaking, it may not be the best, it is arguably the most popular thanks to its versatility and universal compatibility which makes it the go-to choice when you want to convert videos from YouTube playlists. 
Is It Legal to Download YouTube Videos? 
If you're the rightful copyright owner of the video, or you have express written consent from the copyright owner, yes, it is legal to convert YouTube videos to MP4 and download them. In any other case, it is more than likely you're infringing on copyright. 
How To Download Private YouTube videos?
This is unfortunately not possible. Free YouTube to MP4 converter software requires access to the full video to work properly. If the desired video you are trying to download is not available, it cannot be downloaded.
Is YouTube Premium Worth It? 
If you're looking for a legal way to download videos from YouTube and watch them on your device, then yes, YouTube Premium is worth it. Video download is one of the perks you get, in addition to background video playback and the removal of ads.